The Covid-19 Pandemic is re-defining what is means for a business to be resilient. From large to small companies, no industry has been sparred from responding to this crisis. Their business models and practices are being tested like never before. And unfortunately, not all of these businesses will survive. With the lost of business, also comes the lost of careers, and professionals are looking to be proactive about the control of their destiny.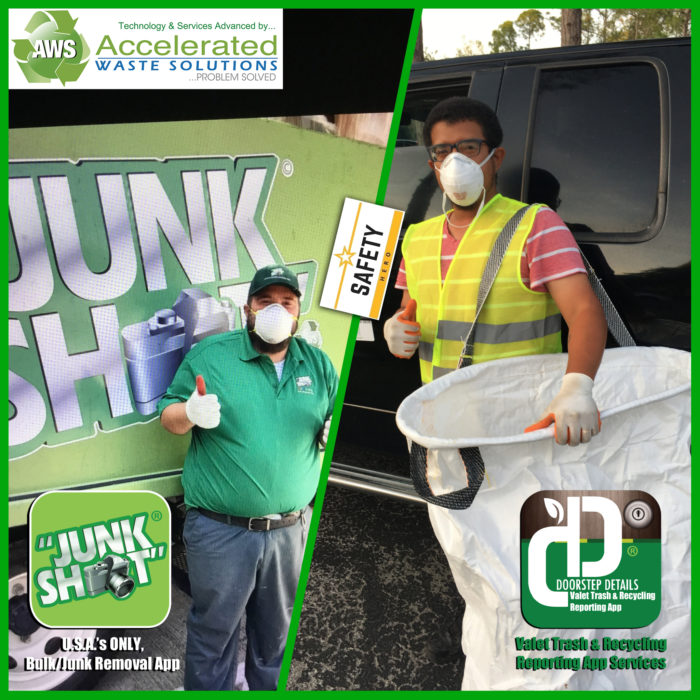 At Accelerated Waste Solutions, we too are being tested in these times. And we're proud to say we're passing this exam with flying colors!
How are we, not only surviving, but actually thriving during these challenging times?
Two "Essential-Service" Brands!

DOORSTEP DETAILS – Valet Trash. The USA's ONLY Apartment Doorstep Trash Collection Franchise. "Signing long-term contracts, means we're obligated to operate, and mandated to get Paid!"
JUNK SHOT App – Junk Removal. The USA's 1st and ONLY Junk Removal App Company! "Our Patented Software makes us an "Exclusive NO-CONTACT" vendor, that businesses and homeowners rely on during this corona pandemic."

Two Unique Profit Models.

DOORSTEP DETAILS – Valet Trash; Creates predictable, monthly, RECURRING REVENUE, backed by Multi-Year Contracts!
JUNK SHOT App – Junk Removal; Creates DAILY, Point of Sale, "CASH-FLOW", by targeting the same "Apartment Management" customers as Doorstep Details, as well as, Household Consumers!

Responsible Corporate Culture.
As the operator of 2"Essential-Service" Brands, Accelerated Waste Solutions always take the safety of our team and clients seriously. We implemented many safety practices for this crisis, before regulated guidance was given. Our "Problem Solved" culture (and tagline) means that AWS is poised to overcome and benefit from many other challenges to come.
These are just a few of the Key Differentiators that make AWS a sustaining business in a "Shut-Down" environment. Our world-class franchise support is ready to help entrepreneurs tap into their local "essential-services", and be a part of this recession-resilient businesses.
For Franchise Opportunity Information visit: AcceleratedWasteFranchise.com or Call: 866-761-8135