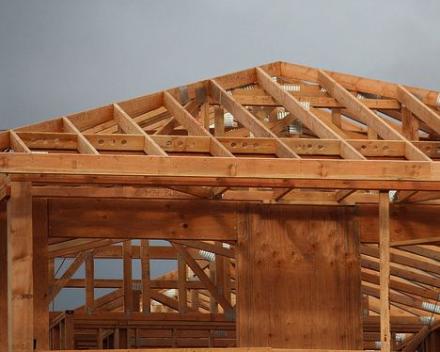 By all accounts, the housing market is booming in Austin.
Home prices, number of sales, and rental occupancy rates and rents are up. And, according to numbers released yesterday, so is new construction.MetroStudy, a firm that tracks realty numbers, says construction in the third quarter is up 37% from last year.
But what does this mean for Austinites looking for roofs over their heads?  Leonard Guerrero with the Austin Board of Realtors says there are more people looking for homes than there are homes to sell, which is a factor  driving prices up.
"We're operating on about a four month inventory," Guerrero says. "Markets typically show a six-month inventory. 'Six-month inventory' just means that if houses stopped going on sale today, it would take about six months for all of them to be off the market."
Guerrero looks to Austin's flush job market as the culprit. The influx means more people need places to live, and Guerrero says many avenues for housing are nearly tapped out.
Eldon Rude is with MetroStudy. "We have an apartment market that is 95% occupied. Rent is going up briskly," Rude says, "so people are beginning to look to alternatives for their housing besides increasing rent, so they're moving to the new home market or the resale market."
Rude says inventory of existing housing is so tight that it's encouraging more homes to be built to meet demand. Guerrero says he sees the most construction in residential areas surrounding downtown Austin: Hutto, Taylor, Elgin, and Manor in the east, Kyle and Buda in the south, and Pflugerville and Round Rock in the north.
Rude says prices are likely to keep going up, and with mortgage rates still very low, that's encouraging more people to buy homes for the first time.
———————————————————————————————————————————————————-
Austin Multi-Family Reycling: Homeowners have long been accustomed to setting aside their paper, cardboard, aluminum, glass and certain types of plastics for recycling. Now those who work for big businesses or live in large apartment complexes will be able to join them.
Starting Monday, new City of Austin recycling rules require owners of large commercial office buildings and multifamily properties to make sure their tenets and employees can recycle.
"Whether you go to school, go to work, go to play or go home — in any of those scenarios — you should have access to recycling," said Bob Gedert, director of Austin Resource Recovery, the city's trash and recycling department.
The ordinance, which ultimately requires affected properties to contract with haulers to take away recyclables as well as trash, is part of a larger effort to divert waste from landfills.
For now, the rules apply to multifamily properties that have 75 or more apartments and commercial office properties with 100,000 square feet of space or more. Smaller properties will have to comply with the universal recycling ordinance, as it's known, in coming years.
By 2015, the ordinance will affect 4,500 properties, according to city officials.
Gedert said residential renters can expect a modest bump in fees because of the rules. .
The City Council might expand the ordinance to include other types of businesses. Restaurants, grocers, retail stores, hotels and industrial facilities might have to start recycling by October of next year. The city is likely to begin collecting compostables as early as 2016, Gedert said.
City officials have estimated the cost of carrying out the program at $500,000, including hiring staffers for enforcement, educating tenets and managers about the rules, and having a website to record the progress of the plan.
Michele Van Hyfte, manager of environmental stewardship at the Seton Healthcare Family, said she was working to make sure five Austin-area hospitals were compliant. "We want to be the best stewards we can be by maximizing our recycling potential."
Gedert said the first year of the program amounts to a grace period, in which city staffers will help eligible properties comply. Eventually, out-of-compliance properties could face misdemeanor fines.
(The American-Statesman has a recycling program that meets the demands of the ordinance, said Jim Stonestreet, the facilities and maintenance director at the newspaper.)
The new recycling rules ratchet up guidelines first laid out in the late 1990s, said Bill Roland, owner of Granite Properties of Texas, which manages commercial and multifamily properties.
"A lot of properties already provide recycling," he said. "There are some properties that are good recyclers, some less good. This is a continuation of what's in place and a tightening down."
Source: KUTNEWS & The Statesman
At AWS, we make Apartment Living Recycling Easy with a proper all-inclusive DoorStep Valet Trash Waste Removal.  Our fully compliant Multi-Family Recycling programs come with over $150 per unit per year in NOI!
Accelerated Waste Solutions offers Convenient multi-night Valet Trash & DoorStep Recycling pick up for apartment & Condominium residents. After we divert single-stream and recover recyclable materials from the doorstep,we work with our partners to insure reuse. AWS has testimonial backed, proven system that enhances participation, fights contamination, increases NOI & saves money. For  Multi-Family Recycling Programs, Contact AWS for Apartment Valet Trash & DoorStep Recycling regulation-compliant programs. The easiest turn-key sustainable option for Multi-Family Communities.
Valet Service Contracts available in the following States & Cities Served: DoorStep Valet Trash Waste Removal Service:  Florida including Tampa-St. Petersburg, Sarasota-Bradenton, Orlando, Ft Lauderdale, Ft Myers, Naples, Gainesville, West Palm Beach-Boca Raton, Tallahassee, Pensacola, Miami, Panama City & Jacksonville. Texas including Austin, Houston, Dallas, Ft. Worth, Plano, San Antonio & Arlington. Georgia including Atlanta & Savannah. Alabama including Birmingham, Montgomery, & Mobile.  California including Los Angeles, San Diego & San Francisco.  The Carolina's including Charlotte, Raleigh, & Nashville-Davidson.  Mississippi including Jackson & Gulfport. Louisiana including  New Orleans, Alexandria, & Baton Rouge. Arizona including Phoenix, Scottsdale & Tucson. Virginia including Norfolk, Chesapeake, Richmond & Virginia Beach, Maryland & Washington, D.C