"Leaving money on the table", is a common financial phrase. Unfortunately, it's also a common practice for many multi-family investors. Even worst, property management companies often facilitate this lost of funds for owners, by not properly implementing ancillary income activity for the community.
Smart Investors and Management companies are building unique strategies that command above market rental income. DOORSTEP DETAILS, Apartment Doorstep Trash Collection & Reporting is a National Leader in Increasing our Investors Profits & Savings by Millions of Dollars annually! In fact, since its founding in 2008, Accelerated Waste Solutions (Parent Company of DOORSTEP DETAILS) has facilitated over $10 Million dollars in Profit and Savings for our clients.
Considering DOORSTEP DETAILS Valet Trash Fee for service, a 300 Unit Multi-family asset, could earn an additional $100,000 annually, above and beyond market rental income. This type of earning increase, positions your assets for a more profitable refinance or exit. Not to mention, the additional Cash Flow!

DOORSTEP DETAILS Valet Trash offers National Doorstep Trash Collection for nearly 20,000 Units, 5 Nights a Week, and growing! Apartment Doorstep Trash Collection, or Valet Trash, is a top rated amenity that allows apartment residents the convenience of placing their bagged trash outside their front door 5-Nights a week for pickup.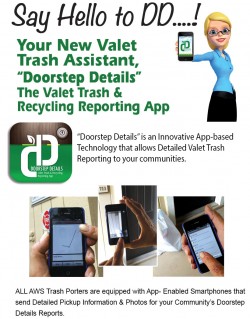 DOORSTEP DETAILS' unique service features include:
Daily GPS-Date-Time Stamped, Photo Enhanced Reporting
No Cost 13-Gallon Trash Cans for Residents
Uniformed/Screened/Trained Trash Collection Specialist
FREE Resident Appreciation/Education Day
DISCOUNTED / PHASE IN PRICING
For a Free 5 Minute Profit/Savings evaluation, Call 866-698-2874, or Email us at: [email protected].
AcceleratedWaste.com | JunkShotApp.com | "Problem Solved"